Drive247 is a reputable company providing quality driving lessons in Kettering at affordable prices. Our driving instructors in Kettering are dedicated to helping you pass your driving test first time and they all have a minimum feedback rating of 90%. Our dedicated driving instructors are all local to the area and will know the best places to conduct your lessons in as well as show you the known test routes. Start your driving lessons with us today and receive the platinum service you deserve. Now couldn't be a better time to start learning to drive as we currently have a sale on which ends soon, you won't see our prices this cheap at any other time of the year!
Driving Instructors in Kettering
Unlike many other large driving school companies covering Kettering, we have local based instructors who have been with our company for many years. Our driving instructors are personally selected by us and dedicated to Drive247, meaning they all meet our high teaching standards. All of our driving instructors in Kettering have a Grade A standards check result, which is the highest grade they can achieve. Our instructors are hardworking and passionate about teaching to drive, and are experienced in teaching pupils of a range of different abilities how to drive.
Intensive Driving Courses Kettering
Learning to drive doesn't have to take a long time. If you are looking to pass your driving test fast, then why not book one of our intensive driving courses in Kettering? You can take your lessons over one to four weeks with a dedicated driving instructor. Our driving instructors are specially trained in delivering intensive driving courses and will tailor a course to suit your needs. All lessons are one-to-one with a Kettering based driving instructor.
Quality Driving School in Kettering
Established since 2010, we are a driving school In Kettering that genuinely cares. For quality control purposes, all pupils receive 3 courtesy calls throughout their learning to drive experience from our management team who are interested in your progress and they also want to see if you are happy and satisfied with the service you are receiving. We aim to create safe and confident drivers and will work with you every step along the way to ensure you achieve your goals and pass fast.
Early Tests
Avoid those long driving test waiting times with our test cancellation checker. We can help you get you booked in for your driving test within days rather than months!
Weekly & Intensive Lessons Available

Take an intensive course over 1-2 weeks which is tailored to your needs.
Want to switch? You can change from weekly to intensive once you've started.
Do 2-4 hours of lessons per week and pass in about 3 months (our average pass time in )
Where to find us
Bowling Green Road
Kettering
Northamptonshire
United Kingdom
NN15 7QJ
Monday - Friday

7am - 9pm

Saturday & Sunday

7am - 6pm
What people say about us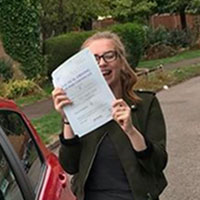 Erin Morgan
"I was extremely nervous about learning to drive, until I took my place in a Drive247 seat. My instructor was brilliant and helped me pass first time!"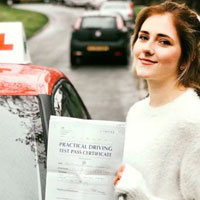 Layla Phillips
"I failed my driving test twice with an instructor local to where I live. As soon as I had my first lesson, the difference in standards was noticeable. I passed with Drive247 with only 2 minors!"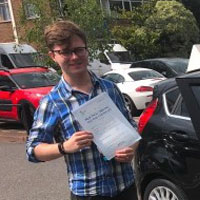 Samuel Wright
"My Drive247 instructor supported the same football team as me so we talked about that most of the time. Next thing I know, I've done my test and passed. Great!"