If you're reading this, you're likely thinking about taking the plunge and booking that all important driving test, or, you have recently booked your driving test at Kettering test centre, and want to find out a bit more before the big day. Here at Drive 247 we like to make things easy for you, so we have compiled everything together that we think you might like to know about taking your driving test at Kettering test centre.
Kettering Driving Test Centre
Kettering driving test centre is situated on an industrial estate on Orion road. Due to its location, upon leaving the test centre, you will come across a number of large vehicles such as lorries, vans or even the odd tractor. There will also be lots of vehicles parked up on the side of the road, therefore, you will need to be prepared to give way to cars coming the other way. Of course, if you're smart and learning to drive with a drive 247 instructor, you will be fully prepared for any situation you may face during your test, so the prospect of facing busy roads and large vehicles will not be of any concern to you.
The two main roads surrounding the test centre are the A509 and the A14, these roads are used to get to tricky junctions and it is more than likely that you will be taken on these fast moving roads very early on in your test. One of the first roundabouts you will face after leaving the test centre is the McDonalds roundabout on Orion way, Kettering. Unfortunately, there is no scenic build up on this test route, you are leaving the industrial estate and being thrown straight into the mix with some busy roads and tricky roundabouts. One very large roundabout in particular is on the A509 via the A14, this roundabout has five exits and is the perfect way to put your lane discipline to the test.
Driving Test Tips for Kettering Test Centre
We strongly advise you to take at least a 1 hour lesson right before your test, this will act as a warm up for your test and you can ask your instructor to clarify anything you may be feeling unsure about. You should use this time to go over some of the surrounding areas near the test centre, these are the most likely areas you will cover either at the beginning or the end of your test. It is important that you are familiar with these areas and that you feel confident so that during your test you don't panic and make any silly mistakes.
All of our drive 247 instructors are from the local area and know the surrounding areas well, during your driving lessons in Kettering they will ensure you are well practiced with all road types and any areas you may face during your driving test. If you have not been learning with a drive 247 instructor, (what are you doing?) you should ask whoever you have been learning with, whether it's a parent, friend or another instructor, to take you on a lesson prior to your test and cover the surrounding areas.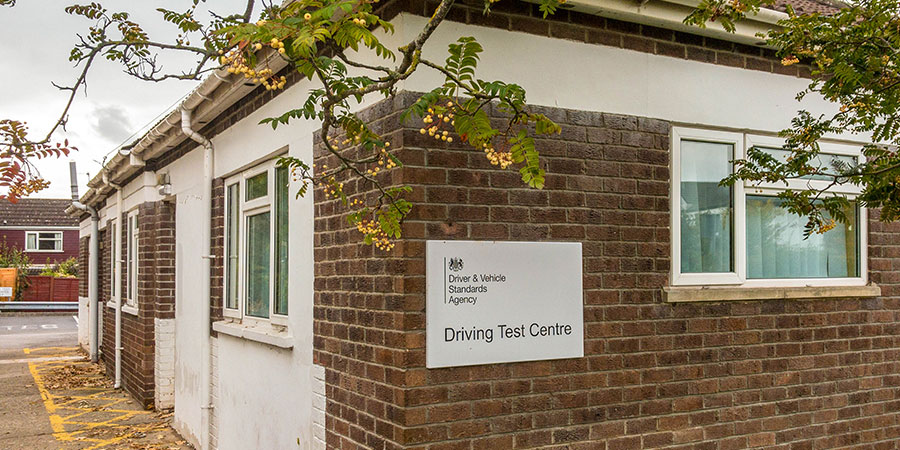 Booking a Driving Test at Kettering Test Centre
Kettering driving test centre currently has a waiting time of approximately 4-8 weeks, therefore it is advised that you book your test well in advance so that you are not disappointed by lack of availability. Booking your driving test at Kettering test centre is easy, it can be done online or on the phone. When it comes to booking your driving test and selecting a time, it may be useful to bare in mind that booking your driving test during peak times may make for a more stressful test as roads will undoubtably be more busy. You may benefit from booking your driving test around the quietest times of the day so that you're not overwhelmed by traffic.
Need to know information about Kettering Test Centre
Address: Orion Way, Kettering Business Park, Kettering, Northamptonshire, NN15 6NL
Typical waiting time to book test: 4-8 weeks
Online booking availability: Usually none, call the DVSA to book a test
Parking available: YES
Test centre rules: Do not enter test centre more than 5 minutes before driving test start time. You are not allowed to practice parking onsite at anytime. Smoking on site is not permitted.
Toilets: Male and female toilets available
Nearby alternative test centres: Wellingborough driving test centre