Sale on Lessons Ends Soon!
No.1 Driving School Irthlingborough
Drive247 driving school in Irthlingborough offers a range of driving lessons with top quality instructors, we have driving lessons available in manual and automatic vehicles as well as weekly and intensive lessons. Whether you're a complete beginner or have had lessons in the past, we have something to suit everyone. We boast an impressive 92% first time pass rate, that's because we truly care about the success of our students and want to see them achieve their goals of passing their test as a safe and competent driver.
We have weekly lessons and intensive courses available, with instructors that specialise in both. Our intensive courses are a great way to pass even faster and have been successful in getting students to pass first time.
Local driving instructors Irthlingborough
Looking for local driving instructors in Irthlingborough? We think it is important for our instructors to have a good knowledge of the area, therefore, at drive247 we only use fully qualified instructors from the local area. Our instructors will make sure you are familiar with the local roads and test routes, making it easier for you when it comes to your driving test.
Sale on Lessons Ends Soon!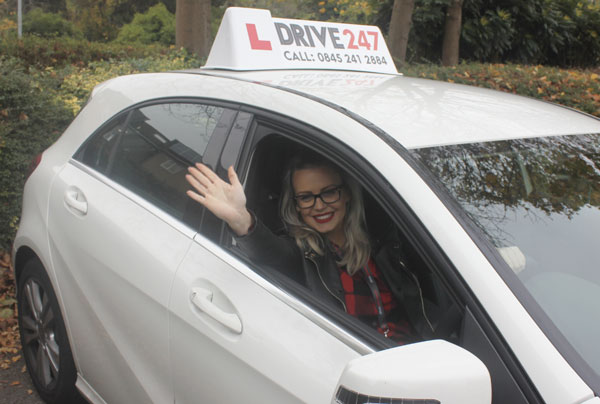 Frequently Asked Questions
Where will my test be if I take my driving lessons in Irthlingborough?
Taking your driving lessons in Irthlingborough you will have the choice of a few different test centres. The nearest driving test centres if you live in Irthlingborough are Wellingborough and Kettering test centre, you also have Cardington situated slightly further afield. Having the choice of two test centres means you can pick one based on availability and pass rates. Whatever test centre you choose, your driving instructor will show you the test routes and take you for many of your driving lessons in Wellingborough or Kettering.
What will I be doing during my lessons?
Depending on what level you're at when you come to us, you will typically start your driving lessons in a quiet residential area. During your first driving lesson with Drive247 you will practice moving off and stopping, as well as getting to grips with how the car works. Once you've mastered moving off, stopping and getting up to third gear, you will move onto driving on some busier roads in your next lessons. Your driving instructor in Irthlingborough will have you driving around Wellingborough, Raunds and Finedon to give you a well rounded experience on various different roads.